The General Meeting is where our members come together to decide together about what happens to JEF Maastricht. It is the highest body within the association and assembles at least once a year. In a General Meeting, our members get the chance to hand in and discuss motions, review the yearly report of the board, and hold elections, most notably for the board.
Because JEF Maastricht is a fully democratic youth association, the General Meeting is public. How it works is regulated in JEF Maastricht's Constitution and further described in the Internal Regulations. Those documents itself are established and can be amended through the General Meeting. You see? It's a fully transparent process – and you can take part in it!
In 2019, the General Meeting will take place on 22 May 2019 at the location of Code043.
Date: 22 May 2019
Time: 17.00-20.00
Code043
Kruisherengang 17B
6211 NW Maastricht
We thrive to make our work as transparent as can be. This is why we present you reports of the work which we did during the last year.
Accountability Report 2018-2019
Activity Report 2018-2019
Here's the year 2018-2019 in numbers!
The full activity report of 2018-2019 will be published after the completion of the current association year (1 June – 31 May). Until then, you can find the full report of our activities in 2018 here.
JEF is a democratic youth association. How we work and how we debate and decide is regulated by our Constitution which is supplemented by the Internal Regulations. You can find these documents here.
The General Meeting, i.e. you, also decides on the Political Programme of JEF Maastricht. You can find it here! No resolutions have been passed by the General Meeting of JEF Maastricht so far.

17.00 Welcome & Introduction
17.15 Report of the board & question round
17.50 Motions
18.30 Break
18.45 Motions
19.15 Elections
19.45 Further reports and remarks
20.00 End
You can find all detailed information on what's going to happen in the documents linked in the three information boxes above. We would kindly ask you to prepare yourself by reading the invitation package carefully. We also recommend reading the Accountability Report 2018-2019.
Should you still have any questions, just send us an email!
In charge of the organisation: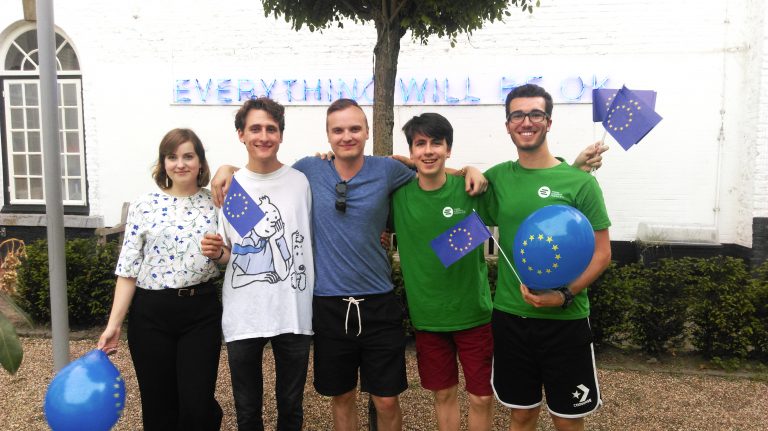 The Audit Committee supervises the transparency of the financial conduct and affairs of the association. The Audit Committee of the association year 2018-2019 consists of Marcus Weber and Fabian Dorreboom.
Are you curious and would like to know more?
Getting to know us and joining the Young European Federalists is possible anytime throughout the year. Most of our activities are also public, so that's the perfect opportunity to get in touch and break the ice!
Join us, check out our social media channels and write us an email!