Maastricht is the most international section of JEF in the Netherlands. With more than 50 members, we're also one of Maastricht's fastest growing student associations.
Our mission:
Fighting in the spirit of the Maastricht Treaty. For an ever closer union! ❤
Our vision:
The realisation of a united federal Europe based on the principles of democracy, subsidiarity, solidarity and freedom.
Our Constitution and Internal Regulations
JEF is a democratic youth association. How we work and how we debate and decide is regulated by your Constitution which is supplemented by the Internal Regulations. You can find these documents here.
At our General Meeting of 10 January 2019, we adopted the first version of our Political Programme. You can find it here!
Our Strategic Focus 2018-2019
Providing a platform for young Europeans
Explaining the EU and (its) politics.
Sharing political committment.
Paving the road to the European Parliament elections 2019
JEF Maastricht is open to everybody between the age of 16 – 35. The biggest group within JEF Maastricht are currently students from Maastricht University. There, our activism attracts change-driving students from all different faculties.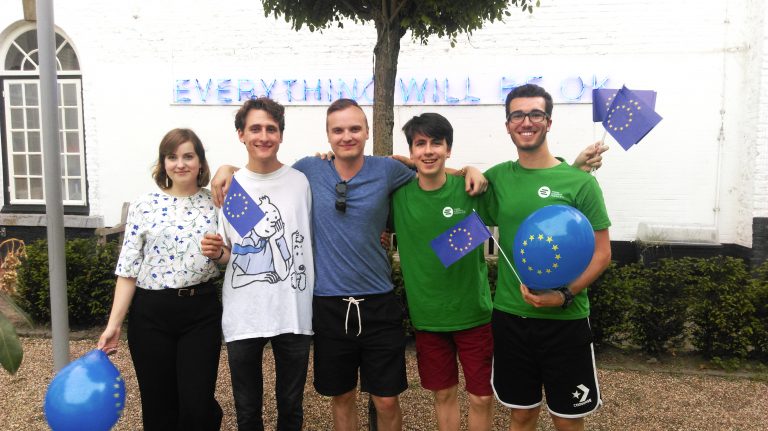 Oona Huttunen (Secretary General), Joshua Hellinger, Kasper Sukselainen (Treasurer), Thilo Buchholz (President), Gabriele Melindo
Working Group
EP Elections 2019
The hot topic of JEF Maastricht in winter & spring 2019: Mmembers can join the working group 'EP Elections 2019' which is planning and executing our campaign to get Maastricht's citizens to vote in the European Parliament elections! Contact us to find out how you can get involved.
Working Group
Promotion & Funding
The Audit Committee in the association year 2018-2019 consists of Marcus Weber and Fabian Dorreboom.