Written by Sara Stachelhaus
Democracy in Europe is more and more under pressure, and it is necessary, more than ever before that the European youth speaks up for a united, just, sustainable and socially responsible Europe. We have to stand up, in sypmhony with the older generations, for our future. With the European elections ahead, JEF Netherlands is ready to bring the elections to the universities and the Dutch youth. On four action days organized by JEF Europe, our Dutch JEF sections are going to raise awareness for the elections and encourage European citizens to vote in favor of Europe!
Many university students are eligible to cast their vote, some of them for their first time in European elections. To inform about the European parties' stances on the youth's most urgent issues such as sustainability, digitalization and the future of Europe, JEF Enschede will be live-streaming the Maastricht Debate with lead candidates for the European Commission Presidency on the 29th of April at 6:30pm in the Ravelijn Building on the UT campus.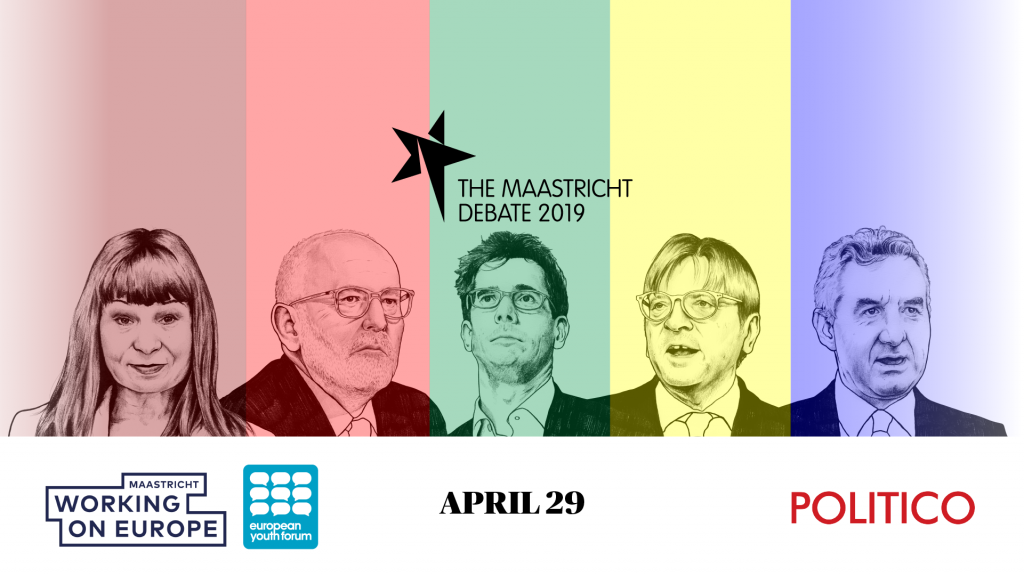 Confirmed Spitzenkandidaten taking part in the debate are Bas Eickhout (European Green Party), Guy Verhofstadt (Alliance of Liberals and Democrats for Europe), Frans Timmermans (European Socialists), Jan Zahradil(Alliance of Conservatives and Reformists in Europe) and Violeta Tomič (European Left). The debate will be moderated by Maastricht University Rector Rianne Letschert and POLITICO editor Ryan Heath. 
The Maastricht Debate 2019 is organized by Working on Europe – Maastricht University, the City of Maastricht and the Province of Limburg – as well as the European Youth Forum and the European Journalism Centre. The 90-minute event will be broadcast live across the European Union. Therefore, share the event on Social Media, invite your friends to watch it together, or find a JEF section near you to join in for a public viewing. The elections are coming, and you want to be informed.